Welcome to DC: The National Monuments
The monuments in DC are arguably some of the city's most recognizable features and the best places to soak up some history and knowledge. Every semester, ELC students get a chance to visit these landmarks and experience the best DC has to offer.
The United States Capitol looks beautiful during all times of times of day, but especially during golden hour. The building has its own subway inside that connects it to all three of the Senate office buildings and one of the four House office buildings. The female figure on top of the dome is known as the Statue of Freedom.
When you walk away from the Capitol, you reach the National Mall! This is not a shopping mall, but rather a giant lawn where important events take place. It is lovely for a walk any time of day or year. During the day, you can pop in and out of the (free!) Smithsonian museums, which are located all along the National Mall.

Here are some other fun facts about the monuments and historic sights around DC:
The Washington Monument was the tallest building in the world for 3 years, until the Eiffel Tower in Paris was built in 1887. Buildings in DC are not allowed to be taller than the Washington Monument, although the National Cathedral is higher in the skyline because it sits on a hill.
The Lincoln Memorial is based off of the architecture of the Parthenon in Greece. There's also a typo on the Lincoln Memorial. The full texts of two of Lincoln's speeches are engraved on the walls, and the engraver accidentally inscribed the word EUTURE instead of FUTURE on the north wall. The base line of the E was filled in, but the mistake can still be seen.
---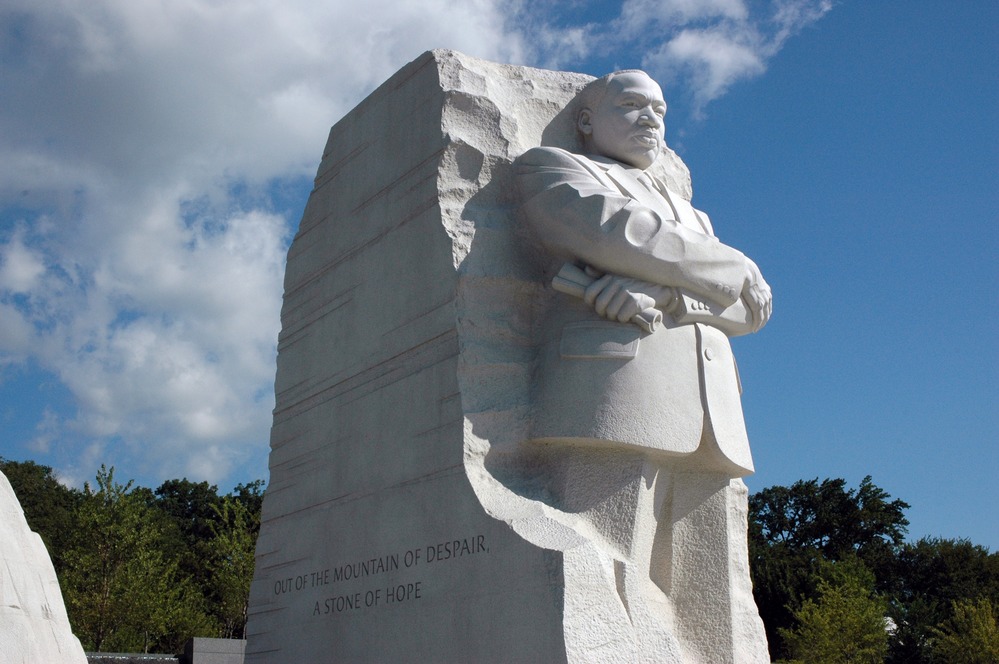 The address for the Dr. Martin Luther King, Jr. Memorial is 1964 Independence Avenue, referencing the 1964 Civil Rights Act, for which Dr. King was a great champion. Along the walls of the monuments are 16 quotes by Dr. King during his fight for civil rights.
The ELC monument tour is a great time to make friends, speak English, and get in a few selfies. We hope to see you there next semester!